Slide
LocalFutures_PlanetLocal_webbground2
"Localisation is the path to ecological economies, direct democracy, thriving communities and healthy food systems."
– Helena Norberg-Hodge, Director, Local Futures
Slide
Talks
●
Workshops
●
Dialogue and Debate
●
Music
●
Comedy
●
A People's Assembly
●
and more
Cutting-edge thinkers, writers, policy makers, movement builders and activists:
Slide
Slide
Slide
Watch and share our short video with snapshots of the livestream recordings. Featuring Charles Eisenstein, John Perkins, Jack Harries, and more. Watch all livestream recordings by clicking the button below.
View our selection of photos taken during the three-day Summit.
Slide
"Everywhere I go, I see a proliferation of small-scale, local and inspiringly beautiful alternatives to the dominant system."
Helena Norberg-Hodge - founder of Local Futures
In preparation for the Summit we produced a booklet called 'A Global Movement Comes of Age', in which Helena Norberg-Hodge explains the meaning and significance of the global-to-local message.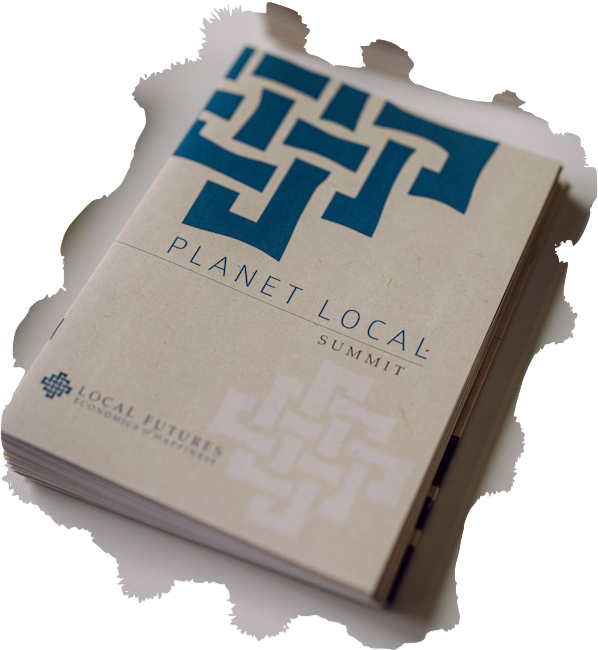 Rethinking food and farming ● The roots of depression ● Climate and carbon ● Corporate welfare ● Indigenous wisdom ● Human-scale economies ● The role of technology ● The role of education ● Activism ● Challenging corporate media ● Healing ourselves, healing our communities ● The future of finance ● Spirituality and personal transformation